Four Elements of Engagement in a Comprehensive Financial Plan
to Move Your Wealth Planning in the Right Direction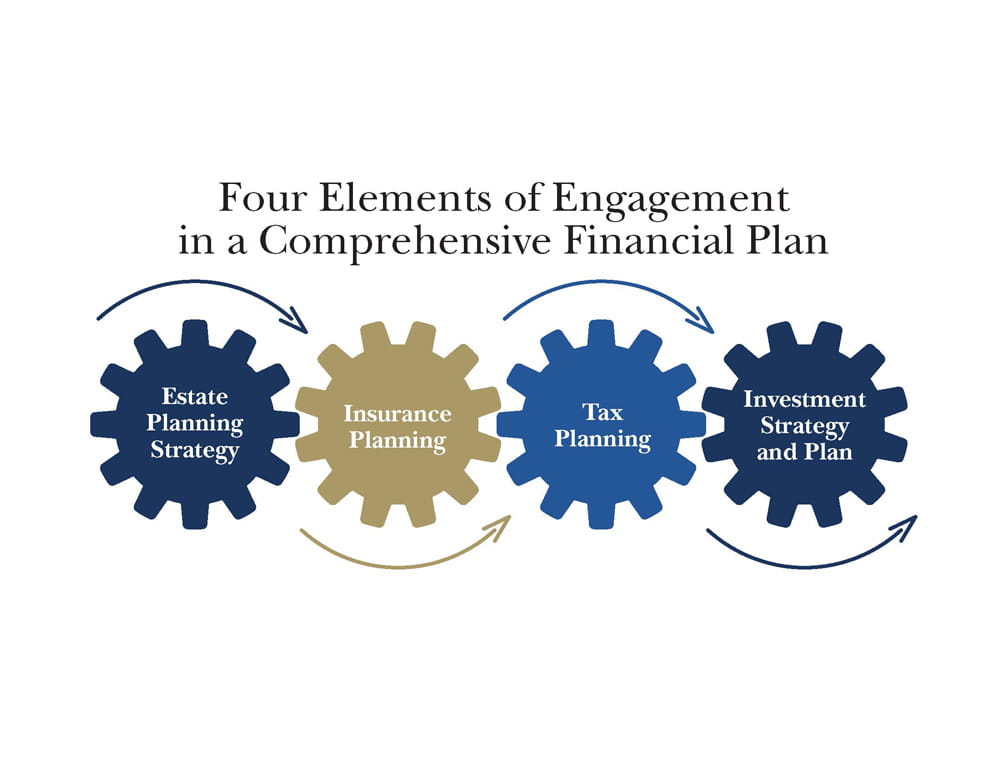 This process generally encompasses:
Estate planning strategy
Insurance planning
Tax Planning
Investment Strategy and Plan
Estate Planning Strategy -
Whether it's providing income for a spouse, educating children or grandchildren, or designating money to your favorite charity, proper estate planning can ensure that your assets, accumulated over your lifetime, are preserved for the use you have intended.
Insurance Planning and Risk Management –
We believe a comprehensive plan must consider and prepare for the unexpected – such as accidents, illnesses, disability, the risk of outliving your money, and even teenage drivers. Our team helps you think ahead and consider different scenarios, then prepare contingency plans to address them.
We understand that while risk cannot be eliminated, it can be identified and should be mitigated. Our risk management services include life insurance, annuities, long-term care, disability insurance, and liability insurance.
Tax Planning -
We help clients avoid the common tax management and planning traps that set many individuals and families back. Through proper planning and coordination with your tax professionals and advisors we may dramatically reduce lifetime taxes by properly structuring your wealth and income.
We also create and manage multiple tax efficiency strategies to minimize the impact of taxes on investments during retirement. These include tax diversification, income and deduction timing, partial Roth conversions, Social Security timing, tax-free health spending, and others.
Investment Strategy and Planning -
Our objectives are:
to preserve your wealth,
achieve a reasonable rate of return, and
counter the erosive effects of inflation and taxes.
We know that a proper asset allocation among cash, equity, fixed-income securities, and alternative investments can be an effective way to pursue your investment goals.
We believe the formula for investment management should include the key components of skilled investment research, long-term planning, and a well-managed professional relationship.
We then manage wealth through our comprehensive financial planning framework with our Goal Planning and Monitoring (GPM) process and dashboard.
To request a complimentary Vision Session, click HERE »
There is no assurance any investment strategy will be successful. Investing involves risk including the possible loss of capital. Asset allocation does not guarantee a profit nor protect against loss.